Narrow-mouth bottles, with flap cap, natural, HDPE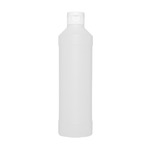 The LABSOLUTE® narrow-mouth bottles made of HDPE with PP flap cap can be used for a variety of liquids. The bottles can be used in direct contact with food. Due to the conical shoulder the bottles are perfectly drainable.

The DIN 28 screw thread has an additonal sealing cone. The spout has a diameter of 3 mm....
Click here to display 2 items
Display:
10
Groups Per page