Basic timer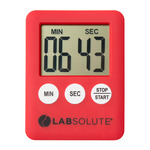 The LABSOLUTE® range offers you a practical selection of precise chronometers which provide functions geared towards the requirements of the laboratory sector.

The LABSOLUTE® basic timer is a handy, lightweight and functional timer with a simple design.

Dimensions (W x H x D): 50 x 69 x 8 mm
LR-54 battery included
Countdown function
Four-digit display up to 99 minutes, 59 seconds
With magnet on the back
With power switch on the back for longer battery life
...
Click here to display 1 items
Display:
10
Groups Per page