With silicone / PTFE septa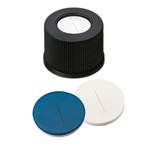 Screw seals ND10 are made of PP and have a 10-425 thread. They have a 7 mm centre hole or are closed. Screw seals are supplied with fitted septa made of a variety of materials or without any septa.

These septa are temperature-resistant from -60 °C to 200 °C and have better purity than septa made of natural rubber, butyl or red rubber. However, they have less effective resealability properties and are therefore more suitable for single-injection applications....
Click here to display 4 items
Display:
10
Groups Per page