With butyl / PTFE septa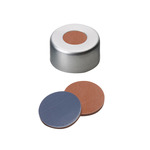 Crimp seals ND11 are made of aluminium. They are clear or lacquered in different colours and have a 5.5 mm hole. They are supplied with fitted septa made of a variety of materials.

These septa are temperature-resistant from -40 °C to 120 °C and have excellent chemical properties.

Septa with a double-sided PTFE coating show a very low particle formation during penetration....
Click here to display 2 items
Display:
25
Groups Per page