Disposable gloves, nitrile Green, powder-free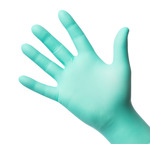 The powder-free LABSOLUTE® disposable gloves nitrile GREEN are flat with a rolled cuff and offer excellent elasticity and wearing comfort. The gloves have textured finger tips.

They are extremly skin-friendly, because they are free from chlorine and natural rubber proteins. The gloves use less water, energy and carbon dioxide during the production process as similar disposable gloves making these gloves a more sustainable option....
Click here to display 4 items
Disposable Gloves Kimtech™ Purple Nitrile™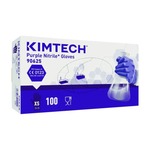 Offering the highest protection of all Kimtech™ gloves, Purple Nitrile™ gloves are latex-, silicone- and powder-free.

Contains no natural rubber latex
Textured fingertip, enhances wet and dry grip
Powder-free
Beaded cuff, for added strength and ease in donning
Unique purple colour provides quick visual differentiation
Ambidextrous
Virus Protection
AQL 0.65
Cat. III Low Chemical resistant
...
Click here to display 5 items
Display:
10
Groups Per page